Vol. 2 Issue 1 December 2005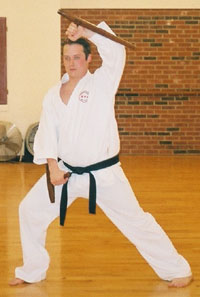 Nidan...
It's not just the term for the 2nd level of a Black Belt in Martial Arts. It represents the character of the person who has attained it. Mr. Roberts is a Karate Ka who has reached this level of his Karate training. This is very evident in the way he conducts himself in his daily life and in the Dojo. He demonstrates his training while doing Katas, combinations and leading the class when instructed to. His is more than willing to stay after class for any of the kyu belts who ask him to. Karate is something which he will continue to do until he is physically unable to do so.

Yoshukai training began for Mr. Roberts at the age of 13. It has been part of his daily life for so long that he could not see life without karate. He did do some boxing, when he was very young and then some Judo with Sensei Polk. So how did he end up in Yoshukai?

Well, his father said a big "No" to the T-word. His mother said she would give the OK to Yoshukai if they were not trophy hunters. That statement speaks for itself. Yoshukai has helped Mr. Roberts physically. Due to asthma, as a child he depended on an inhaler. He doesn't now, which he credits to the deep breathing in traditional karate training. On the other end of the spectrum, his worst injury to date was a broken finger on his right hand. He earned that while he was a Brown Belt, training with Mr. Jensen. Keeping a tightly closed fist was a lesson well learned. If someone was to thinking about studying the Martial Arts, Mr. Roberts' advice would be to pick a style that suits either a soft or a hard style. And check the instructor's attitude towards his students. He also feels that someone with a knowledge of karate, who ends up in any type of confrontation, would stay calm. But use your fear as your motivation, not your destroyer and if at all possible try to stop the situation, do not let it progress. Busido - The Code of the Warrior has helped keep Mr. Roberts "on his toes". It reminds him that he will always have room for self-improvement and that he is not better than others. In closing: Mr. Roberts would like Sensei Dugan to know that all the years of training he has received has made his a better, more rounded person than he ever could have become on his own. Thank you - is just not enough. Nidan - it's not the rank, it's the person.