Vol. 3 Issue 1 April 1, 2006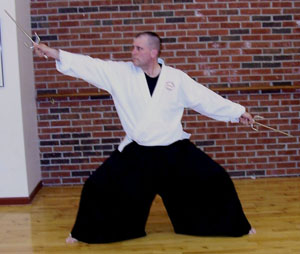 Shodan......
Mr. Hanger is one out of many Black Belts in the Yoshukai Karate Alliance. He has been in karate for 9 years; since the age of 37. Karate takes a lot of dedication and in the past 9 years Mr. Hanger has shown his. Not only has he received his black belt, but also an excessive amount of discipline... which was probably needed! Mr. Hangerís interest in Yoshukai started back when his friends, Mr. Kennett and Mr. Logan, started Yoshukai. He watched them in their training and became curious and interested in Yoshukai. So he thought he would also join and like many of us, have become dedicated to this particular style. He plans on staying in karate forever, as many have said, they will continue to train until they are physically unable to do so.
If anyone was to get into a confrontation his advice is "donít think just do". If you think too much about what you need to do, it will not get done. Use your karate training and let it come to you naturally; use patience at all times.
To anyone who was thinking about signing up for Yoshukai, he would highly recommend it. It is an excellent source of discipline and it teaches one to have respect. Mr. Hanger also believes the code of Bushido is as important in todayís world as it was in the time of Japanese samurai. He believes it to be an excellent discipline for todayís youth. The code of Bushido has influenced his life by teaching him to give 100% in everything that you do. In and out of the dojo.
As all Black Belts are asked, "If you had one thing to say to Sensei Dugan what would it be?".. Mr. Hanger would like to say to him, "Thank you for your time and dedication".