Kyu Belt Testing.....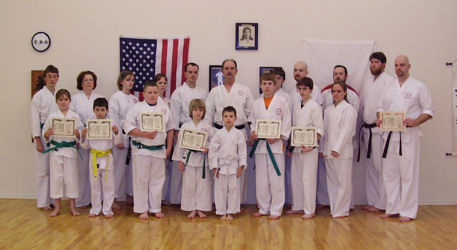 On February 24th we held our kyu belt testing at the Williamsville dojo. Those who tested were: Marcus Pickett - 8th kyu; Austin Schaub - 6th kyu; David Dugan - 5th kyu; May Hudspeth - 5th kyu; Nick Garner - 5th kyu; Jeffery Schreiber - 4th kyu; Ken Reese - 3rd kyu; Dawn Johnson - 3rd kyu (not shown--the photographer). Those of you who tested all did a very good job. You have all reached your next rank. Even though you will have new things added to your training it is very important, as Sensei stresses all the time, that you continue to practice everything you know up to your new rank.
Continued from last newsletter...