Vol. 4 Issue 3 August 1, 2007
Sensei Borowiak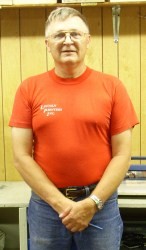 Bob Borowiak began his karate training in September of 1967, in Wakkanai, Japan.

He chose to study Yoshukai because he watched Sensei Kodaís class in Lincoln and liked the idea of itís heavy contact. Sensei Borowiak made the statement that Yoshukai has 100% body contact.

The difference in his Yoshukai training compared to others styles is the fact that the others would pull their punches and kicks. He stated that when you go through with your punches and kicks to your opponent, they, as well as yourself, will notice the difference in the two. "If you execute a punch to an opponent they will not feel threatened by you. Now, if you let your punch go they will become more threatened by you."
Bob Borowiak joined the Yoshukai dojo in 1971 with the rank of brown belt, which Sensei Koda recognized from his previous training. In 1972 Bob first met Yamamoto Sensei when he came to test him for his Black Belt. Later that year, Sensei Koda moved back to Florida and Bob took over his dojo in Lincoln. During his years of Yoshukai training,, Bob has had the pleasure of meeting Mike Foster Sensei and Mike Sadler.

(In picture to the left: Yuki Koda, Bob Borowiak and Mamoru Yamamoto. Both Koda and Yamamoto autographed this picture) (Notice Sensei Kodas patch).