Green Belt
BY ANN KLOSE
THE COURIER
Published Thursday, May 31, 2007

Karate warm up takes place at sunset Tuesday, with the temperature perfect on the Lincoln Recreation Center lawn.
Students of all belt levels work out together in Dan Dugan's Yoshukai karate class.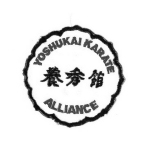 We had a little change of pace in class one night. Sensei sat along the wall, with some of the students, while some of them got up front and were asked to demonstrate and/or explain the meaning of various moves and some history of Yoshukai. During the demonstrations Sensei asked questions about why certain moves were made and questioned why we donít do it another way.

He was representing someone who knew nothing about Yoshukai. We were to convince him that he should join Yoshukai and why.

This did however, put students through a test of patience. As annoying (ha ha) as it was, it was very educational to all students.

To know and to act are one and the same.