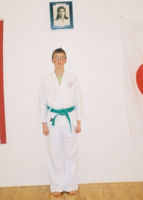 Sensei would like to make mention of a very proud thing that one of his students did at school. Dillon Huff, 5th kyu green belt, was at soccer practice and was confronted by a bully. Dillon stood up to this bully and warned him that he did not want to mess with him. When the bully continued to do so, Dillon was very well capable of standing up for himself in the way he was trained. As we were told, Dillon "cleaned his plow."

Dillon did what we are taught by Sensei Dugan and used his karate solely for self-defense. How he handled his situation should be an example to everyone that karate makes a huge difference in our attitude.

Sensei respectfully instills in each and everyone of us that we do not deserve to be mistreated by anyone, and if we are, how to handle the situation properly. Dillon, we are very proud of you, you have set a good example for all of us who have not yet needed to use our self-defense in a real situation.

Our lesson taught is that our training is not to be used in a offensive manner but in a defensive one! It does not even begin to compare to bringing home a 6 foot trophy.
We would like to congratulate Ms. Schreiber on her promotion at work. She was recently promoted to Assistant Manager at Dollar General after only being employed there less than 3 months. A positive attitude and diligent effort seems to be a major reason in Dollar Generals decision for her promotion! (6. Practice these beliefs in the dojo and in daily life) CONGRATULATIONS MS. SCHREIBER!!
UPCOMING EVENTS
October
Saturday 21st - Brown belt training at Latham park 1 - 4 p.m.
Saturday 28th - Weiner-roast 6:30 - ? (notes will be sent hom as to where this will be)

November
Thursday 2nd - Kyu belt test at Lincoln Dojo 7 - 9 p.m.
Saturday 18th - Black belt training at Lincoln Dojo 12 - 4 p.m.

December
Saturday 16th - Black belt test Lincoln Dojo 12 - 4 p.m. 5th Annual Christmas part at Rusty's (2810 Woodlawn Rd) in Lincoln at 6 p.m. until ?
CHRISTMAS VACATION

(Tuesday) Dec. 26th AND (Thursday) Dec. 28th