Black Belt Clinic III
---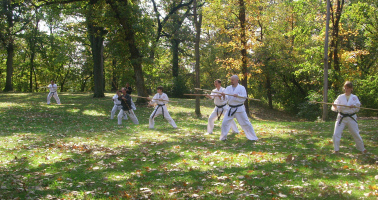 On October 27th the Black Belts gathered for another Clinic. This time we went to Memorial Park. It ended up being a very nice day, and the spot we were in had the perfect Fall scenery!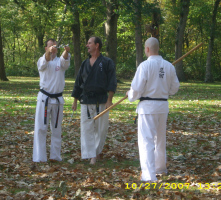 We were very happy that Mr. Stone was able to join us! We had a lot set out for us to work on that day, which makes it better. We started the day with bo tai bo! We then went on to bo tai sai 1-3 and right into practicing how to handle the bo better; we made a couple of trips down the park and back.


Sensei, Sensei Bottrell and Mr. Stone had
some time to go over bo tai sai together. Sensei Dugan and Mr. Stone also reviewed bo tai tonfas together! The two of them went around and helped the rest of us out on bo tai sai, in hopes of us improving. Some of us can be more difficult than others, NOT TO MENTION ANY NAMES! (see picture to the left).


Mr. Stone worked with us on Katanas while Sensei Dugan worked with Sensei Bottrell. This was Mr. Lowe's first time with the katana, and as usual, he picked up on it pretty quickly!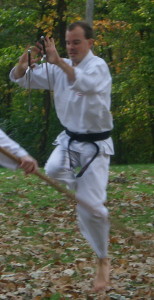 The Matrix IV?




We then went over a few sai katas! Repetition is very important in our training, as we practice techniques over and over (continuous improvement and development). Every time we practice our techniques we learn something that needed improvement. We do a lot of improving at clinics and look forward to each one.
L - R: Mr. Lanning, Mr. Lowe, Sensei Bottrell, Sensei Dugan

Mr. Stone, Ms. Schreiber, Mr. (M) Schreiber, Mr. (D) Schreiber.




Thank you Sensei Dugan for fitting all clinics into your BUSY schedule! We all look up to you and admire your passion and desire to teach what you have done for quite a long time... you are an inspiration to us! And thank you Mr. Stone for your time as well. You drive a long way to help us improve our skills and it is greatly appreciated, OS!